Ask Ed Marijuana Growing Tip #4 : When To Harvest
Many of you are looking at your outdoor plants and wondering "Are they ready yet? Can I harvest them?" This is really important because marijuana is just like a fruit that only tastes good when ripe. You wouldn't want to eat a green peach would you? Once you taste and feel the effects of ripe marijuana, you will never go back. Here are four indications of ripeness:
1- The stigmas have matured. The white or cream colored hairs attached to the calyx have turned brown. (In some varieties, the calyx behind them where the fertilized egg would have developed into a seed has swollen as if a seed were developing)
2- The Trichomes, or the glands that hold THC in their caps, should be erect and the cap should appear swollen, as the membrane is being stretched to the breaking point (Can be seen better with a magnifying glass- The caps appear clear at first, then start to turn milky or opaque, as soon as they start to turn, it is time to harvest.)
3- The Odor The smell might have been intense before, but when the plant ripens, it becomes much, much more pungent. That is a good indication.
4- The Appearance of the plants has changed, they glisten in the sunlight as if they were sprinkled with tiny crystals. Some varieties are covered so thoroughly that they appear white.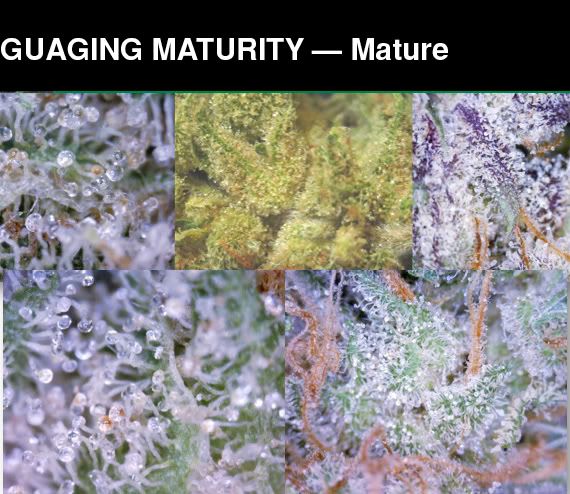 The buds on the same plant ripen at different times, for best results, pick just the right portion of the buds and leave the rest for a few days. These buds, which were shaded before, will now burst into growth and ripen very quickly. Pick no bud before it is ripe.